Whether you are shopping for a housewarming gift or birthday present, or simply trying to get labeled as the ultimate "gifter" for the holiday season, there are many reasons why you should consider buying garden water fountains. These are beautiful and beneficial décor items that are ideal for nearly anyone on  your  shopping list.
Yin-Yang Pot Garden Fountain
Dimensions: 14.5"H x 20"W
Interior Décor is Not a Consideration
Although the indoor water fountains we have here at Soothing Walls certainly make exceptional gifts, they are not necessary ideal to buy for someone unless you are positive that the one you choose will complement their personal style and current décor, color palette, and theme. Most people are a little more relaxed with their outdoor living space. So, if the water feature does not match their outdoor furniture, they can always put it by the front porch or in one of the flower gardens.
Ball And Ring Base Garden Water Fountain
Dimensions: 36"H x 36"W x 36"D
Luxury Gift
Fountains are considered luxury items so they are perfect to buy someone who does not have a flexible budget that allows for such purchases. A new homeowner or a couple who just had a baby would likely love to add an extraordinary piece of art to their landscaping, but may never be able to justify squeezing the expense into the budget, when there are bills to pay and other more pressing things to buy. You might as well buy them something they would not buy themselves.
Perfect for Anyone
Garden fountains are ideal to buy for anyone, from your significant other to your child to your boss. They are especially recommended for the person who has everything or the family member you draw in a gift exchange that you only see once a year, and know little about. Here at Soothing Walls we have some pieces that are so versatile that they're sure to appeal to absolutely anyone. Our Campania Pebble Mini Series Fountain is a great example.
Campania Pebble Mini Series Fountain
Dimensions: 9.5"D x 9.5"H X 6.5"L
Beneficial
One of the reasons why garden water fountains make such great gifts is because they provide some really fantastic benefits. First of all, they are beautiful just to look at and will put a smile on the face of those you buy them for every time they look at them.
When placed near the deck or patio, they help to create a tranquil atmosphere, and the wonderful sound they make helps mask noise coming from the neighborhood.
Also, they invite birds and pollinators, such as butterflies and bees to drink. The presence of these creatures enhances the visual display. Plus, the pollinators will be greatly appreciated when their flowers are more beautiful than ever, and if you know the person you are shopping for has bird feeders hanging from every tree, you want to check out our birdbath-inspired pieces, such as the 3-Tier Pot Fountain.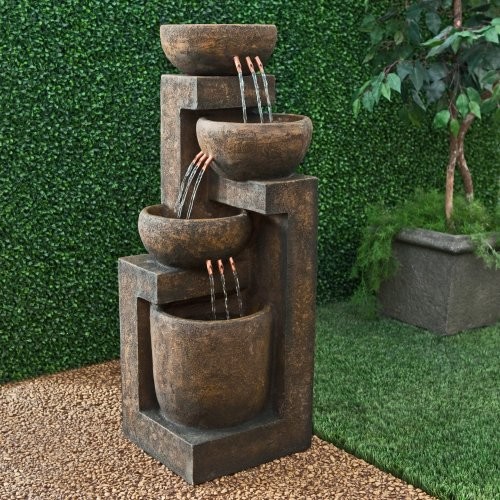 Dimensions: 16''L x 16''W x 41"H